SPRING Season
Starts at 6:30am Pacific on February March 7
This is the fourth and closing season of Series 6.
Next change: Thursday, March 14 at 6:30am Pacific (Summer | Series 7)
Read Johniwanna's overview of the Spring season article in /News and the Forza Hub app.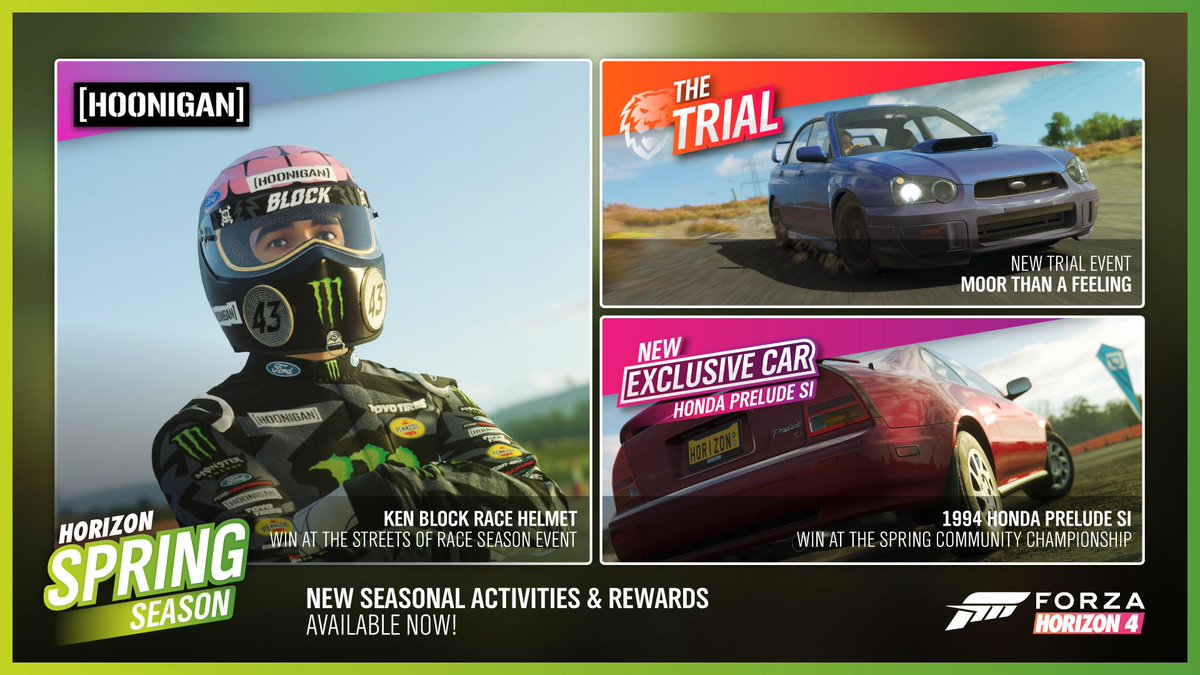 BARN FIND RUMOR:
#FORZATHON SHOP
Note that #Forzathon Shop prices have changed.
500 FP Car: 2004 Maserati MC12 FE (existing Exclusive model)
750 FP Car: 2017 Hoonigan Gymkhana 10 Ford Fiesta ST (existing Exclusive model)
250 FP Clothing: Patrol Hat (Legendary)
250 FP Clothing: Patrol Hat (Legendary)
Wheelspins cost 40 FP & 150 FP
#FORZATHON WEEKLY CHALLENGE: [must be done in sequence to count]
Earn 200 FP from this challenge plus 20 per Daily; bonus 60 FP for 1w + 7d
Own and drive any Super Saloon
Earn 5 Triple Pass Skills while racing in your Super Saloon
Earn 12 Sideswipe Skills in your Super Saloon
Earn 3 stars at the Swan Dive Danger Sign in your Super Saloon
MAINLAND
Championship: "Super Saloon Tour" | Ambleside Village Circuit | PI<800 Super Saloons
Reward: Super Wheelspin / Wheelspin / 15,000 CR
Championship: "Streets of Race" | Wind Farm Rush Street Scene | PI<998 Hoonigan models
Championship: Community Route | Mountain Circuit | PI<900 Modern Sports Cars
Reward: Honda Prelude '94 (newly added Exclusive model)
Playground Games: Mortimer Gardens | PI<800 BMW Isetta
Reward: VW GRC Beetle (existing Exclusive model)
The Trial Co-Op Championship: "Moor than a Feeling" | Highland Farm Scramble | PI<900 Modern Muscle
PR Stunt: Bridlewood Speed Zone | 150.0 mph
PR Stunt: Cotswolds Speed Trap | 240.0 mph
Meet the finish requirements to earn (Super) Wheelspins, CR, and/or a unique reward. To earn the Trial reward, team members must all race against Unbeatable Drivatar difficulty and win as a team against the Drivatars.
FORTUNE ISLAND
Championship: "Grass Roots Rally" | Southland Super Scramble | C600 Classic Rally
Championship: "Fortune's Wheel" | Fortune Forest Circuit | S1 900 Super GT
Championship: "Mud & Thunder" | Fenholm Scramble | A700 Sport Utility Heroes
PR Stunt: Halcyon Point Trailblazer Start Gate | 42 seconds
Tip: 40 seconds in the Exomotive Exocet unlocks the "Exodus of Exocet" Achievement*
PR Stunt: Lady on the Lake Speed Trap | 230.0 mph
Tip: 180mph in the Koenigsegg CC8S unlocks the "The OG" Achievement*
Fortune Island championships earn Wheelspins for 1st-2nd-3rd in Solo, Co-Op, and PVP.