AUTUMN
Starts August 8 2019 at 7:30 a.m. Pacific
This is the second season of Series 12.
Next change: August 15 at 7:30 a.m. Pacific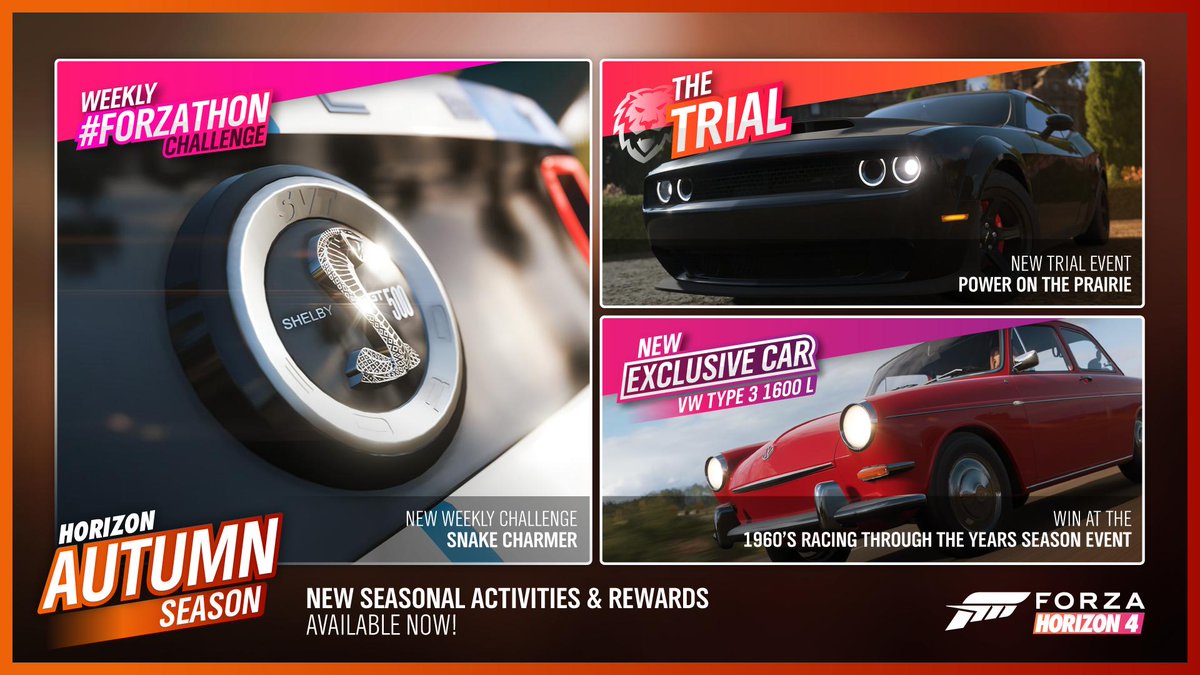 BARN FIND RUMOR:
The LEGO Speed Champions Barn Find is now available for Expansion owners.
#FORZATHON SHOP
650 FP Car: 1963 VW Type 2 De Luxe FE (existing Exclusive model)
625 FP Car: 1939 Auto Union Type D (10,000,000 CR value)
?00 FP Clothing: RTR Fun Haver Blue Top
?00 FP Clothing: Blue Top Hat
Wheelspins cost this series: 40 FP & 150 FP
FESTIVAL PLAYLIST REWARDS
#FORZATHON
Earn 100 FP from the weekly challenge plus 10 per Daily, plus Bonus for all, double for owning the Lake Lodge
Weekly Challenge:
[Must be done in sequence to count.
Own and drive the 2013 Ford Shelby GT500 (Ford Mustang '13)
Win 3 Drag Strip events in the Ford Mustang '13
Earn a total of 1 million Skill Score in the Ford Mustang '13
Win a Road Racing Series event in the Ford Mustang '13 at the Lakehurst Forest Sprint
Daily Challenges:
Each challenge is open for 72 hours from 7:30am Pacific of the start day
Earn 1 Ultimate Clean Racing Skill
Earn 2 Great Near Miss Skills
Closely overtake while racing to earn 3 Awesome Pass Skills
Earn 1 Great Drift or E-Drift Skill
Complete a Street Scene event
Earn 2 Great Clean Racing Skills
Win 2 Road Circuit events
SEASONAL EVENTS
The Trial Co-Op Championship: "Power on the Prairie" | Whitewater Falls Cross Country | A800 Modern Muscle
Reward: Ken Block Race Suit
Seasonal Playground Games | Express North Rail Yard | A800 Vans and Utility
PR Stunt: Ambleside Edge Danger Sign | 984.3 feet
PR Stunt: Hythe House Speed Trap | 200.0 mph
PR Stunt: Brookside Speed Zone | 147.0 mph
Championship: "Racing Through the Years -60s" | Gardens Cross Country Circuit | C600
Championship: "Out of Retirement" | Ambleside Sprint | B700 Vintage Racers
Championship: "Family Car Frenzy" | Horizon Festival Sprint | A800 Super Saloons
Reward: BMW M6 '13 FE (existing Exclusive model)
Monthly Events
Monthly Rivals: Broadway Village Circuit
Online Adventure
Completing the monthly events applies their completion percentage to all four seasons in the Festival Playlist.