WINTER | SERIES 28
Starts November 5 at 6:30am Pacific
Ends November 12 at 6:30am Pacific
This is the third season of Series 28.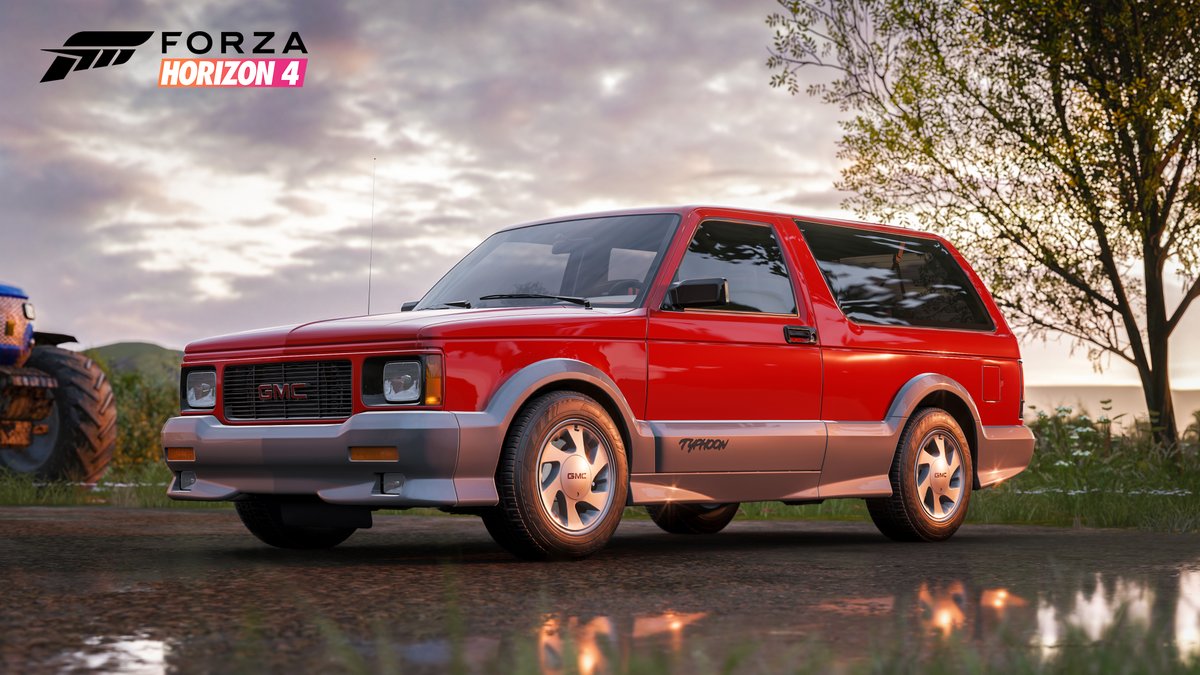 The 1992 GMC Typhoon is this week's new exclusive reward car.
BARN FIND RUMOR:
#FORZATHON SHOP (changes at 7:30am Pacific)
600 FP Car: 1968 Alfa Romeo 33 Stradale
350 FP Car: 2005 TVR Sagaris Forza Edition (previously available Exclusive model)
Emote: Back Spring
Car Horn: The Kraken
Wheelspins cost this series: 40 FP & 150 FP
---
FESTIVAL PLAYLIST
Backstage Pass car choices (all previously released exclusives):
1999 Lotus Elise Series 1 Sport 190
2012 Ferrari 599XX Evoluzione
1965 Hoonigan Gymkhana 10 Ford Hoonicorn Mustang
2005 Hot Wheels Ford Mustang
1970 Porsche 914/6
2018 Honda Civic Type R
2001 TVR Tuscan S
1994 Nissan Fairlady Z Version S Twin Turbo
1965 Pontiac GTO
1952 Hudson Hornet
PHOTO CHALLENGE (3%)
#CASTLEINTHESKY - Photo contains any Nissan; Photo contains Bamburgh Castle
Share a scenic photo with the hashtag on social media for a chance for your photo to be featured by Forza.
#FORZATHON
Earn 100 FP from the weekly challenge plus 10 per Daily, plus Bonus for all, double for owning the Lake Lodge
Weekly Challenge: (15%)
Must be done in sequence to count.
Own and drive the 2019 Ford Ranger Raptor
Earn 10 Crash Landing Skills in your Ranger Raptor
Earn a Barrel Roll Skill with your Ranger Raptor
Win 5 Events of any type in your Ranger Raptor
Daily Challenges: (1% each)
Each challenge is open for 72 hours from 7:30am Pacific of the start day.
Earn 1 Landscaping Skill
Combine Drafting and Pass Skills to earn 1 Slingshot Skill
Combine Air and Pass Skills to earn 1 Airborne Pass Skill
Earn 3 Clean Start Skills
Earn 3 Near Miss Skills
Earn 2 Great Air Skills
Closely overtake while racing to earn 1 Great Pass Skill
SEASONAL EVENTS
The unique reward listed for seasonal championship events requires you to place 1st against at or above the Highly Skilled Drivatar difficulty setting; the Trial requires Unbeatable difficulty. As of Series 24 Playground Games rewards the car for all participants, win or lose.
The Trial Co-Op Championship: (7%) "Plus Ultra" | Dirt Racing | (B700) Japan
Reward: 1995 Toyota MR2 GT (previously available Exclusive model)
Seasonal Playground Games (7%) | Bamburgh Castle | (D500) Classic Rally
Reward: 1970 Ford GT70 (previously available Exclusive model)
As of Series 24 you don't have to win the event to earn the reward.
PR Stunt (7%): Slate Quarry Speed Trap | 142.0 mph
PR Stunt (7%): Croft Speed Zone | 110.0 mph
PR Stunt (7%): Arthur's Seat Danger Sign | 649.6 feet
Championship: "Rally 'Round the Flag" | Dirt Racing | (C600) Retro Rally
Reward: 1994 Toyota Celica GT-Four ST205 (previously available Exclusive model)
Championship: "Last Chance Saloon" | Cross Country | (A800) Super Saloons
Reward: 2013 Mercedes-Benz E 63 AMG (previously available Exclusive model)
Championship: "Beginner's Truck" | Cross Country | (C600) Offroad
Reward: 2016 RJ Anderson

#37

Polaris RZR-Rockstar Energy Pro 2 Truck (previously available Exclusive model)
MONTHLY EVENTS
Monthly Rivals: Hennessey VelociRaptor at the Quarry Cross Country Circuit
Online Adventure - (requires 1 Qualifying race to get ranked)
Completing the monthly events applies their completion percentage to all four seasons in the Festival Playlist:
6% for Monthly Rivals
15% for Online Adventure Qualifying