WINTER | SERIES 20
Starts March 26 at 7:30 a.m. Pacific
This is the third season of Series 20.
Next change: April 2 at 7:30 a.m. Pacific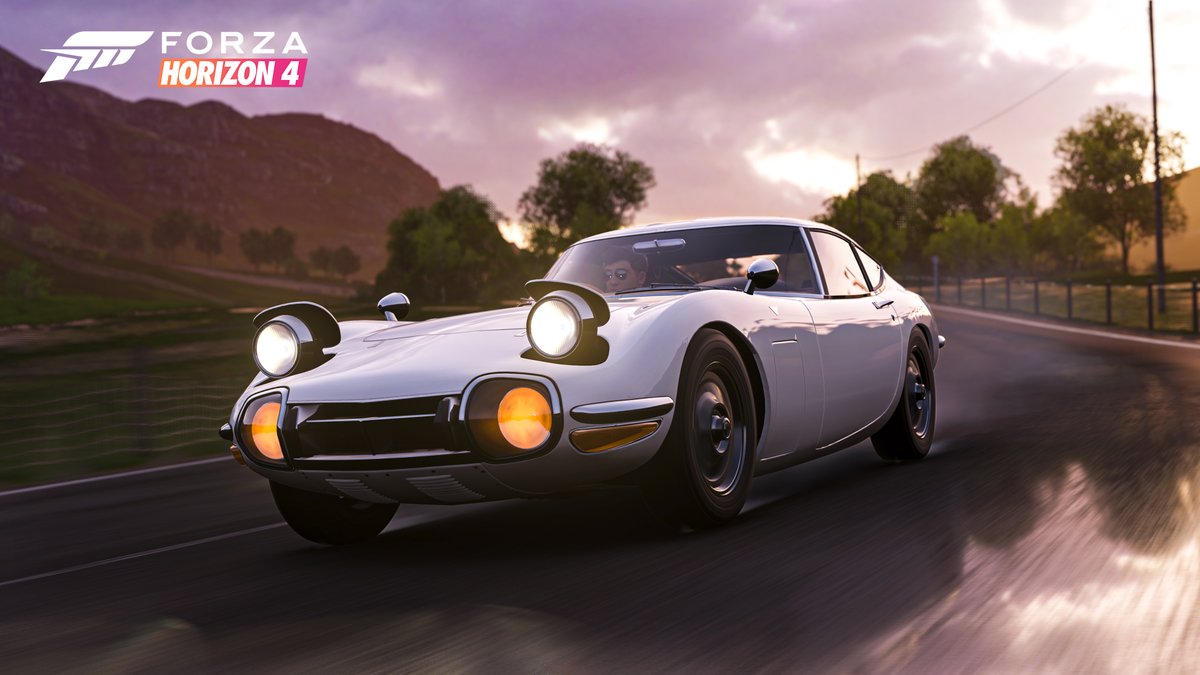 The 1969 Toyota 2000GT is a new exclusive reward available from 50% seasonal Festival Playlist completion.
BARN FIND RUMOR:
#FORZATHON SHOP
600FP Car: 2019 Porsche Macan Turbo
450FP Car: 2018 Italdesign Zerouno (previously available Exclusive model)
Emote: Clown Dance
Clothing: Clown Mask
Wheelspins cost 40 & 150 FP
FESTIVAL PLAYLIST REWARDS
#FORZATHON
Earn 100 FP from the weekly challenge plus 10 per Daily, plus Bonus for all, double for owning the Lake Lodge.
Weekly Challenge: - 15%
Must be done in sequence to count, all completed within the season to earn completion.
Own and drive a Retro Rally car
Earn 3 Airborne Pass Skills in a Retro Rally car
Earn 5 Lucky Escape Skills with your Retro Rally car
Earn a 3 star score at the Derwent Water Speed Zone with your Retro Rally car
Daily Challenges: - 1% each
Each challenge is open for 72 hours from 7:30am Pacific of the start day. See Skills list.
Earn 4 stars in total from Speed Zones
Glance a wall with the rear of your car while drafting to earn 2 Drift Tap Skills
Earn 1 Great Skill Chain
Earn 1 Great Clean Racing Skill
Earn 1 Clean Start Skill
Earn 2 Street Scene events
Earn 1 Great Air Skill
SEASONAL EVENTS - (5% each) 48% total
Championship Rewards include the named item for placing 1st against Highly Skilled Drivatars, plus additional CR rewards.
The Trial Co-Op Championship: "Snow Returns" | Road Racing | (S1 900) Classic Racers
Showcase Remix: Ride to Anywhere (Hovercraft)
Seasonal Playground Games | Mudkickers' | (S1 900) Rally Monsters
Reward: MINI Countryman (previously available Exclusive model)
PR Stunt: Rail Yard Ramp Danger Sign | 774.3 feet
PR Stunt: The Roman Mile Speed Trap | 235.0 mph
PR Stunt: Coppice Speed Zone | 86.0 mph
Championship: "This Side Up" | Cross Country | (A800) Offroad Buggies
Reward: Emote: Back Spring
Championship: "Neither Rain Nor Sleet" | Dirt Racing | (C600) Classic Rally
Reward: 2011 DS 3 Racing (previously available Exclusive model)
Championship: "Ice Truckers" | Cross Country | (B700) Trucks
Reward: 2002 BMW M3-GTR (previously available Exclusive model)
Series Events
Completing the monthly events applies their completion percentage to all four seasons in the Festival Playlist, applying retroactively for past seasons within the series.
Horizon Story - 11%
Monthly Rivals - 5%
McLaren Speedtail at Lakehurst Copse Circuit
Online Adventure - 14%