SUMMER | SERIES 32
Starts February 11 at 6:30am Pacific
Ends February 18 at 6:30am Pacific
This is the first season of Series 32.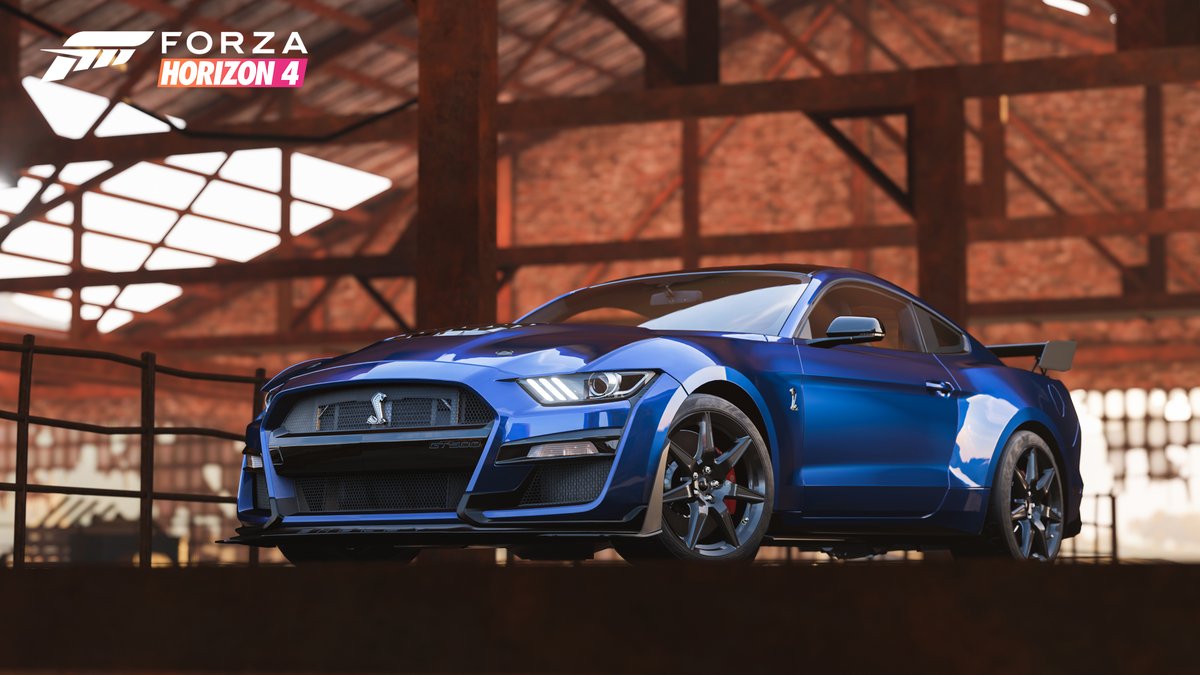 The 2020 Ford Mustang Shelby GT500 is this week's new exclusive reward car.
---
BARN FIND RUMOR: (Spoiler - repeat Summer find)
---
SUPER7 COMPLETION: 2017 Formula Drift #117 599 GTB Fiorano (previously available Exclusive model)
---
#FORZATHON SHOP (changes at 7:30am Pacific)
600 FP Car: 1994 Ford Supervan 3 (previously available Exclusive model)
350 FP Car: 1970 Buick GSX (previously available Exclusive model)
Clothing: Pink Biker Trousers
Clothing: Pink Biker Jersey
Wheelspins cost this series: 40 FP & 150 FP
---
FESTIVAL PLAYLIST
PHOTO CHALLENGE (3%)
#PRIZEDPOSSESSION - Take a photo of the 2020 Ford Mustang Shelby GT500.
Reward: Super Wheelspin
Share a scenic photo with the hashtag on social media for a chance for your photo to be featured by Forza.
#FORZATHON
Earn 100 FP from the weekly challenge plus 10 per Daily, plus Bonus for all, double for owning the Lake Lodge
Weekly Challenge: (15%)
Must be done in sequence to count.
Own and drive any Hypercar
Earn 10 Pass Skills while racing your Hypercar
Earn 9 stars from Speed Zones with your Hypercar
Win a Road Racing Series event at Lakehurst Forest Sprint with your Hypercar
Daily Challenges: (1% each)
Each challenge is open for 72 hours from 6:30am Pacific of the start day.
Earn 2 Awesome Skill Chains
Combine Drafting and Pass Skills to earn 3 Slingshot Skills
Earn 9 stars in total from PR Stunts
Complete a Drag Strip event
Win a Dirt Scramble event
Earn 3 Binman Skills
Earn 1 Kangaroo Skill
SEASONAL EVENTS
The unique reward listed for seasonal championship events requires you to place 1st against at or above the Highly Skilled Drivatar difficulty setting; the Trial requires Unbeatable difficulty. As of Series 24 Playground Games rewards the car for all participants, win or lose.
The Trial Co-Op Championship: "Excess Baggage" | Cross Country | (A800) Heavy Hitters
Reward: 2006 Hummer H1 Alpha Open Top (previously available Exclusive model)
Showcase Remix: "Nine & Three Quarters" | The Flying Scotsman vs. Ford Anglia '59
Seasonal Playground Games | Express North Rail Yard | (B700) Vintage Racers
Reward: 1933 Napier Napier-Railton (previously available Exclusive model)
As of Series 24 you don't have to win the event to earn the reward.
PR Stunt: Great Ridge Danger Sign | 915.4 feet
PR Stunt: Coombe Speed Trap | 185.0 mph
PR Stunt: Croft Speed Zone | 110.0 mph
Championship: "Forest for the Trees" | Dirt Racing | (C600) Retro Rally
Reward: 1994 Toyota Celica GT-Four ST205 (previously available Exclusive model)
Championship: "Cult Collection" | Dirt Racing (D500) Cult Collection
Reward: 1974 Toyota Corolla SR5 (previously available Exclusive model)
Championship: "Flex Your Muscles" | Road Racing (S1 900) Modern Muscle
MONTHLY EVENTS
Monthly Rivals: Toyota Supra '98 on Bamburgh Coast Circuit
Online Adventure: (requires 1 Qualifying race to get ranked)
Completing the monthly events applies their completion percentage to all four seasons in the Festival Playlist:
6% for Monthly Rivals
15% for Online Adventure Qualifying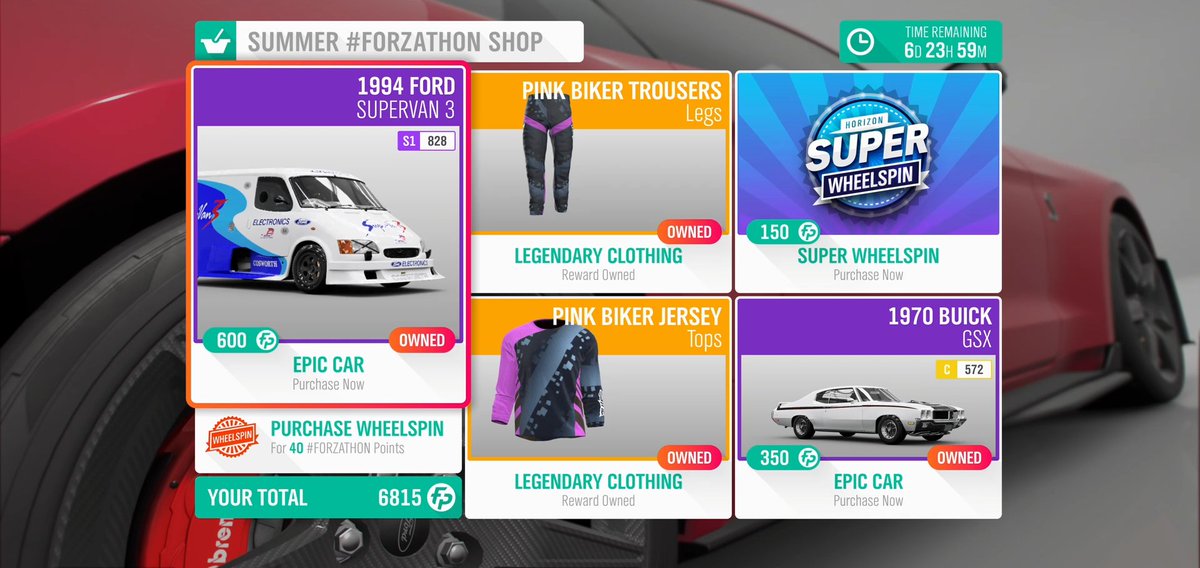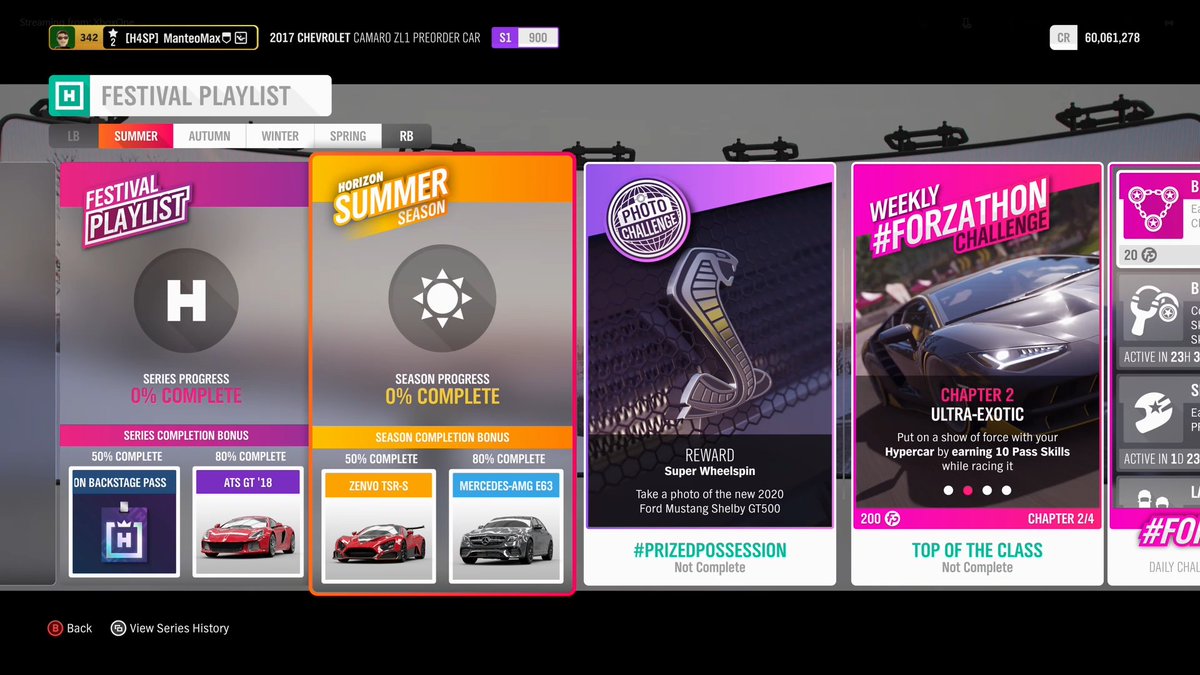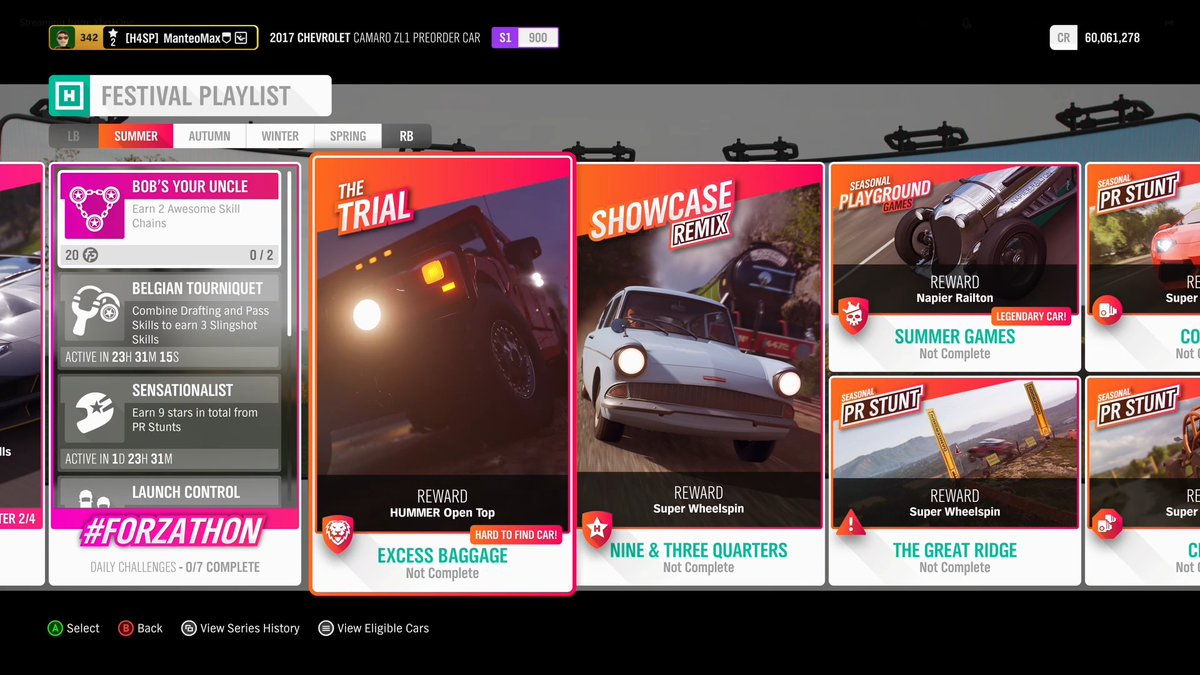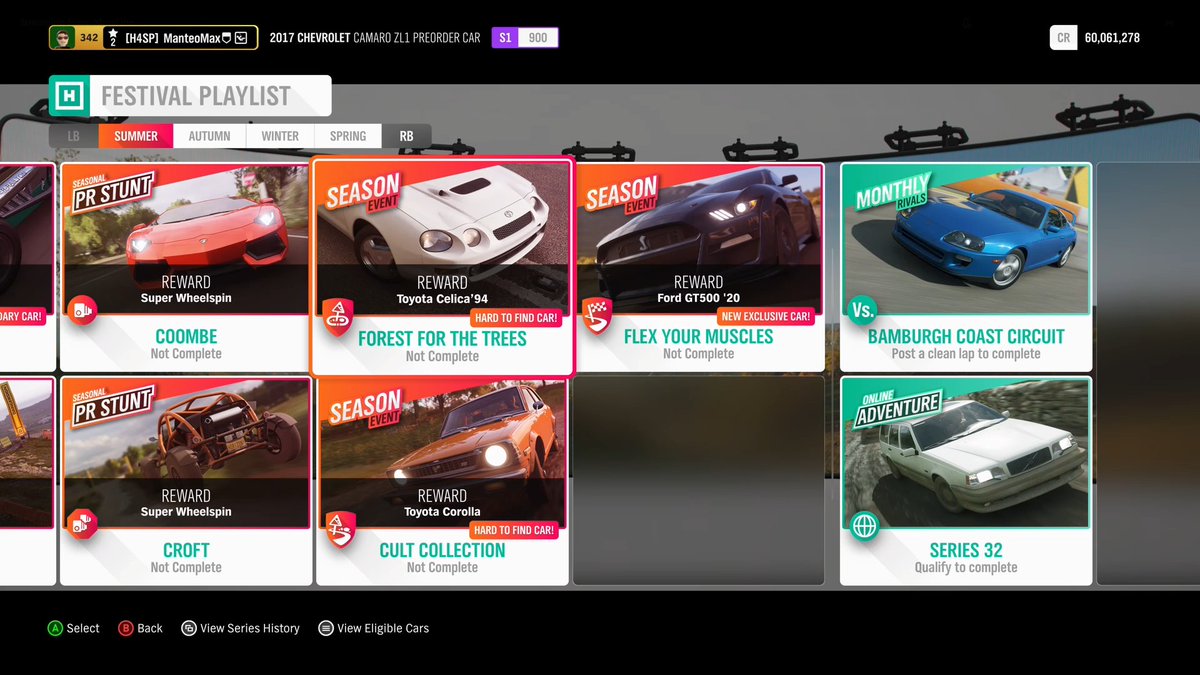 GIFT CAR
"A special Valentine's Day livery is now available for the GTA Spano in your Message Center!" - @ForzaHorizon