SUMMER | SERIES 17
Starts December 19 at 6:30 a.m. Pacific
This is the first season of Series 17.
Next change: December 26 at 6:30 a.m. Pacific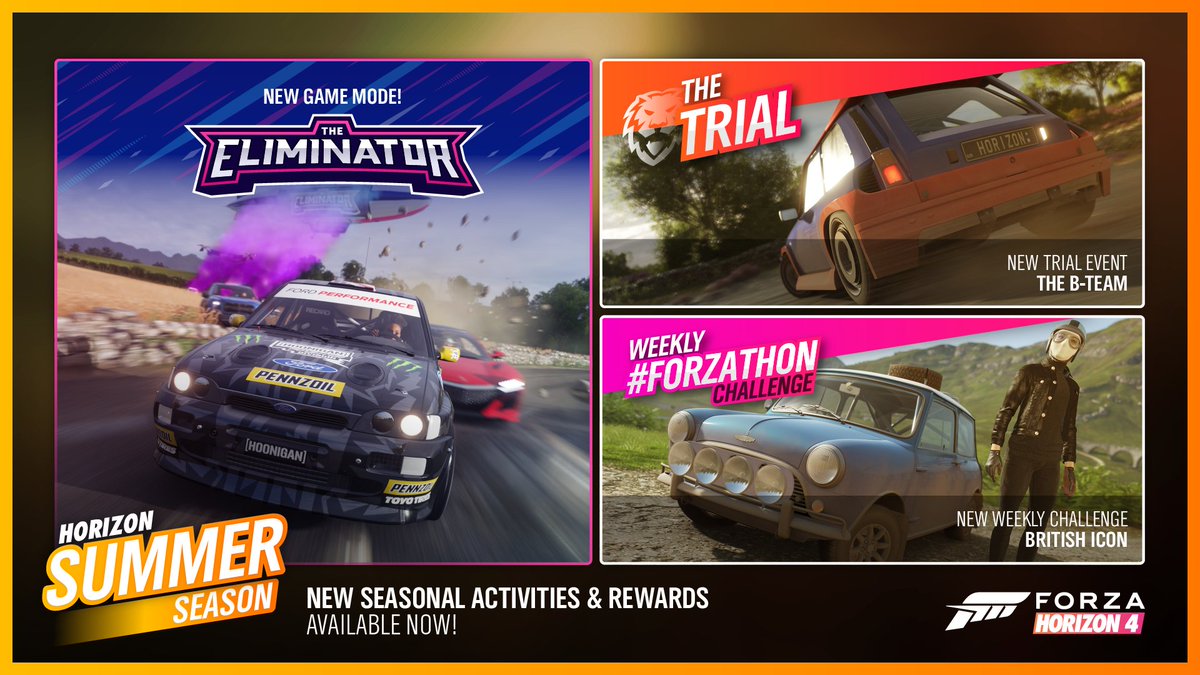 Note: The Eliminator is not used for Festival Playlist completion; the Toyota Supra is available from the Autoshow; the Supra is also available from the Eliminator tier rewards along with the Renault R26.R and Mecury Cougar Eliminator - see the full Series 17 and Eliminator overview in the Forza Monthly December VOD.
BARN FIND RUMOR:
#FORZATHON SHOP
Free Car: 2016 Hoonigan Gymkhana Ford Focus RS RX
(Rotating cars daily in December ) - see Advent Calendar / Horizon Holiday Party
Clothing: Reindeer Antlers (annual item)
Clothing: Snow Boots
Clothing: Santa's Running Shorts (annual item)
Wheelspins cost 50 & 150 FP
FESTIVAL PLAYLIST REWARDS
50% Summer Completion: 2017 Maserati Levante S (previously available Exclusive model)
80% Summer Completion: "Happy Holidays!" Quickchat
50% Series 17 Completion: 2017 Alpine A110 (newly released Exclusive model)
80% Series 17 Completion: 1965 Shelby Cobra Daytona Coupe
#FORZATHON
Earn 100 FP from the weekly challenge plus 10 per Daily, plus Bonus for all, double for owning the Lake Lodge.
Weekly Challenge:
[Must be done in sequence to count.
Own and drive the 1965 MINI Cooper S
Win 2 Dirt Racing Series events in your MINI Cooper
Win 2 Road Racing Series events in your MINI Cooper
Earn a total of 75,000 Skill Score in your MINI Cooper
Daily Challenges:
Each challenge is open for 72 hours from 7:30am Pacific of the start day. See Skills list.
Earn 4 stars in total from Speed Traps
Earn 3 stars at any Danger Sign
Complete a Dirt Trail event
Win 2 Drag Strip events
Earn 2 Air Skills
Earn 1 Wrecking Ball Skill
Earn 1 Awesome Near Miss Skill
SEASONAL EVENTS
Championship Rewards include the named item for placing 1st against Highly Skilled Drivatars, plus additional CR rewards.
The Trial Co-Op Championship: "The B-Team" | Cross Country | (B700) 1980s
Reward: Renault 5 Turbo FE (previously available Exclusive model)
Showcase Remix: "Nine & Three Quarters"
Seasonal Playground Games | Mortimer Gardens | (D500) Vans and Utility
Reward: Quack! Wellies clothing
PR Stunt: The Great Ridge Danger Sign | 915.4 feet
PR Stunt: Bamburgh Dunes Speed Trap | 225.0 mph
PR Stunt: Oldweir Speed Zone | 150.0 mph
Championship: "Old School Cool" | Road Racing | (S1 900) Retro Supercars
Reward: 1953 Maserati A6GCS/53 PininFarina Berlinetta (2,000,00 CR value)
Championship: "Millennial Cup" | Dirt Racing | (S1 900) 2000s
Reward: 1992 Bugatti EB110 Super Sport (1,700,000 CR value)
Championship: "Last Chance Saloon" | Road Racing | (A800) Super Saloons
Reward: Alfa Romeo Giulia FE (previously available Exclusive model)
Monthly Events
Monthly Rivals: Ford RS200 at Railyard Cross Country Circuit
Online Adventure
Completing the monthly events applies their completion percentage to all four seasons in the Festival Playlist.