STAR CARD
New with Update 10, the Star Card feature is a way to track and achieve completion in events, discovery, and content creation, and earn flair for it. This feature is highlighted at the 23:00 minute mark of the Series 10 Update livestream. You can find the Star Card tile in the My Horizon Life menu.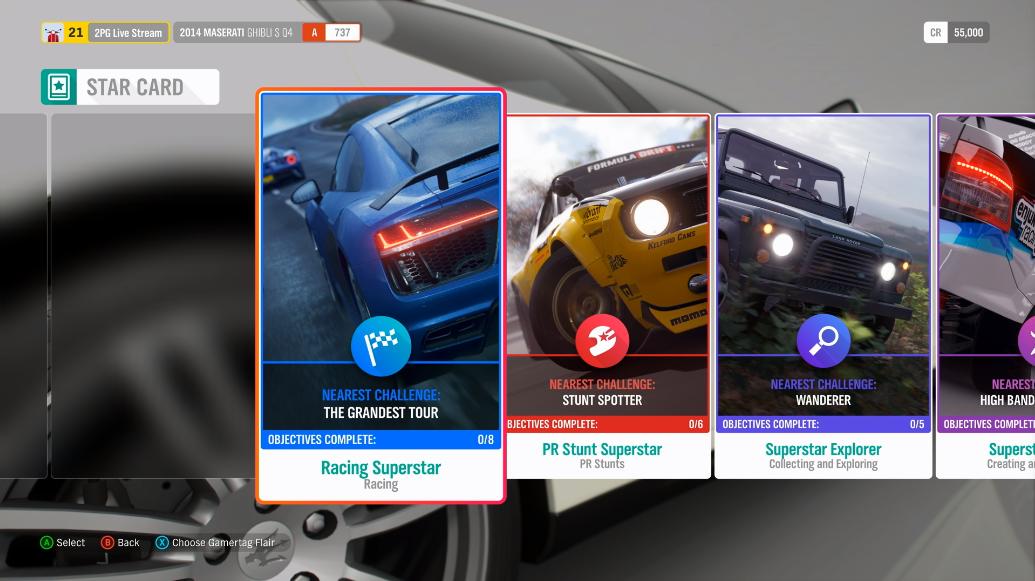 REWARDS
Completing all challenges in a category will unlock an optional flair icon which will be displayed next to your gamertag. Announced with Series 11, new rewards have been added to Star Card:
· Become a Racing Superstar to earn the PG Race Outfit (Legendary Clothing) & Racing Flag icon
· Become a PR Stunt Superstar to earn the 2012 Hot Wheels Rip Rod (Legendary Car) & Racing Helmet icon
· Become a Superstar Explorer to earn the Gold Viking Helmet (Legendary Clothing) & Magnifying Glass icon
· Become a Superstar Creator to earn the Dark Crown (Legendary Clothing) & Pencil Tip icon
· Become a Story Superstar to earn the 2017 Ferrari 812 Superfast (Legendary Car) & Open Book icon
· Become an Adventure Superstar to earn the Golden Chicken Suit (Legendary Clothing) & Globe icon
CHALLENGES
Completing Forzathon and Festival Playlist progress can apply to Star Card progress at the same time, and activity on Fortune Island is eligible for completion in the relevant objectives. Some objectives will count previous Series progress, while others are not retroactive (such as Stories).
RACING SUPERSTAR
Grid Pass - Unlock 70 Race Routes
The Grandest Tour - Complete 70 Festival Races
Seasoned to Perfection - Complete 40 Season Events
Length and Breadth - Drive 5,000.0 miles
The Conqueror - Complete 5 Finales
Headstrong - Win 50 Head -to -Head Races
Showman - Win 5 Showcase Events (starts from zero)
Best Showman - Win 5 different Showcase Remix events (starts from zero)
PR STUNT SUPERSTAR
Stunt Spotter - Discover 94 PR Stunts
Smile for the (Speed) Camera - Earn 84 stars on Speed Camera PR Stunts
Stunt Season - Complete 30 Season PR Events
Over a Short Distance - Earn 84 stars on Speed Zone PR Stunts
Sideways Always - Earn 60 stars on Drift Zone PR Stunts
A Zone of Danger - Earn 54 stars on Danger Sign PR Stunts
SUPERSTAR EXPLORER
The Collector - Own 479 Cars
Wanderer - Discover 531 Roads
Beauty Pageant - Discover 12 Beauty Spots
Barnstormed - Discover 15 barns
Boarded Up - Smash 200 Bonus Boards
SUPERSTAR CREATOR
High Bandwidth Router - Reach Blueprint Rank 5
Art House - Reach Design Rank 5
The Tinkerer - Reach Tuner Rank 5
Snapper - Reach Photo Rank 5
STORY SUPERSTAR
The Magnate - Earn 2,000,000 CR from Horizon Businesses (starts from zero)
Yarn Spinner - Complete 100 Story Chapters
Story Star - Earn 300 Stars in Horizon Story Chapters
Story Collector - Unlock 10 Horizon Stories and Businesses
ADVENTURE SUPERSTAR
Ranked Teams - Get Ranked in Team Adventure Racing
Ranked Games - Get Ranked in Online Adventure Games
Ranked FFA - Get Ranked in Free -For -All Racing
Ranked Up - Reach League 10 in any Online Adventure