SPRING | SERIES 28
Starts November 12 at 6:30am Pacific
Ends November 19 at 6:30am Pacific
This is the fourth and closing season of Series 28.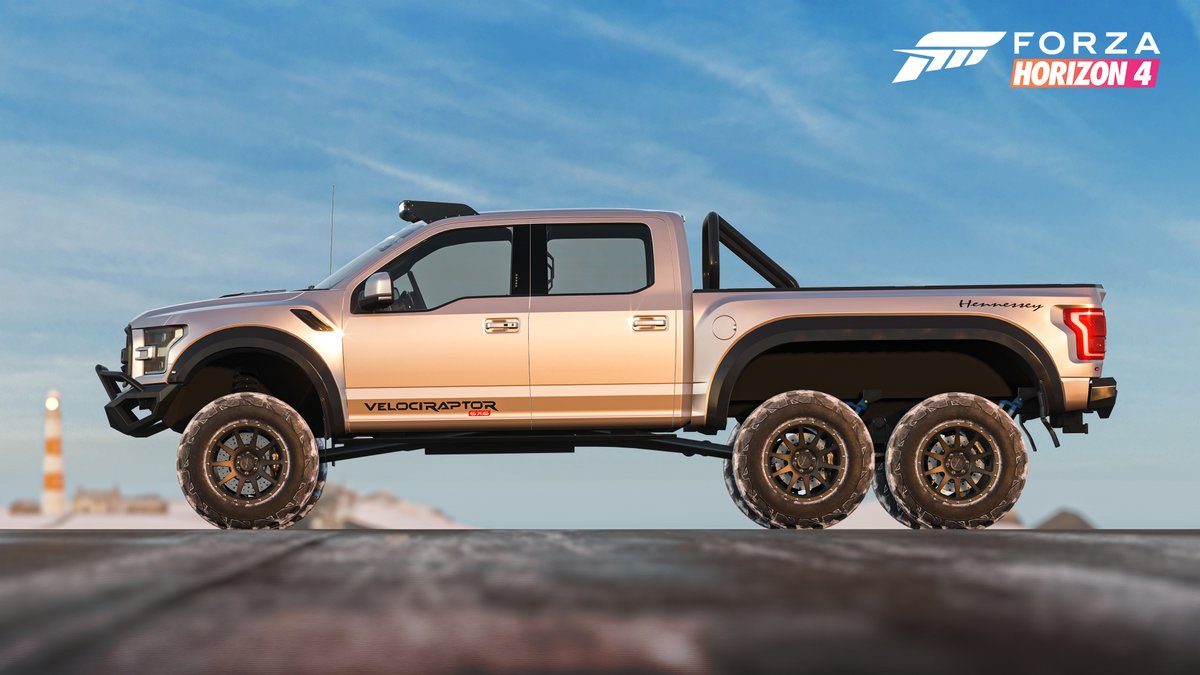 The Hennessey VelociRaptor 6x6 is this week's new exclusive reward car.
BARN FIND RUMOR:
#FORZATHON SHOP (changes at 7:30am Pacific)
600 FP Car: 1992 Toyota Supra 2.0 GT Twin Turbo (previously available Exclusive model)
350 FP Car: 2008 Lamborghini Reventon Forza Edition (previously available Exclusive model)
Emote: Best Mates
Car Horn: Mexican Hat Dance
Wheelspins cost this series: 40 FP & 150 FP
---
FESTIVAL PLAYLIST
Backstage Pass car choices (all previously released exclusives):
1999 Lotus Elise Series 1 Sport 190
2012 Ferrari 599XX Evoluzione
1965 Hoonigan Gymkhana 10 Ford Hoonicorn Mustang
2005 Hot Wheels Ford Mustang
1970 Porsche 914/6
2018 Honda Civic Type R
2001 TVR Tuscan S
1994 Nissan Fairlady Z Version S Twin Turbo
1965 Pontiac GTO
1952 Hudson Hornet
1969 Hot Wheels Twin Mill
PHOTO CHALLENGE (3%)
#BROADSHOULDERS - Photo contains a Classic Muscle car; Photo is taken within Broadway
Share a scenic photo with the hashtag on social media for a chance for your photo to be featured by Forza.
#FORZATHON
Earn 100 FP from the weekly challenge plus 10 per Daily, plus Bonus for all, double for owning the Lake Lodge
Weekly Challenge: (15%)
Must be done in sequence to count.
Own and drive the 2017 Nissan GT-R
Win a Road Series Circuit Event at the Goliath in the Nissan GT-R '17
Drift and lightly touch a wall to earn 3 Drift Tap Skill combos in the Nissan GT-R '17
Duck and weave through traffic to earn 3 Daredevil Skill combos in the Nissan GT-R '17
Daily Challenges: (1% each)
Each challenge is open for 72 hours from 7:30am Pacific of the start day.
Earn 3 Awesome Speed Skills
Combine Drift and Pass Skills to earn 2 Showoff Skills
Earn 2 Triple Pass Skills
Win 2 Dirt Trail events
Earn 3 Great Nar Miss Skills
Reach 175 mph in any car
SEASONAL EVENTS
The unique reward listed for seasonal championship events requires you to place 1st against at or above the Highly Skilled Drivatar difficulty setting; the Trial requires Unbeatable difficulty. As of Series 24 Playground Games rewards the car for all participants, win or lose.
The Trial Co-Op Championship (6%): "Quintessential" | Road Racing | A800 Classic Racers
Reward: 1963 Ferrari 250LM
Showcase Remix (6%): "Taxi for Takeoff" | Delta Wing vs Austin FX4 Taxi
Seasonal Playground Games (6%) | Lakehurst Quarry | (A800) Audi
Reward: 1986 Audi

#2

Audi Sport quattro S1
As of Series 24 you don't have to win the event to earn the reward.
PR Stunt (6%): Swan Dive Danger Sign | 800.5 feet
PR Stunt (6%): Royal Terrace Speed Zone | 108.0 mph
PR Stunt (6%): Astmoor Speed Trap | 203.0 mph
Championship (6%): "New Rules" | Street Scene | (S1 900) McLaren
Reward: 2019 McLaren Speedtail (previously available Exclusive model)
Championship (6%): "Into the Wilderness" | Cross Country | (A800) Extreme Offroad
Championship (6%): "Hot Hatch Time Machine" | Dirt Racing | (C600) Retro Hot Hatch
Reward: Classic Race Suit
MONTHLY EVENTS
Monthly Rivals: Hennessey VelociRaptor at the Quarry Cross Country Circuit
Online Adventure - (requires 1 Qualifying race to get ranked)
Completing the monthly events applies their completion percentage to all four seasons in the Festival Playlist:
6% for Monthly Rivals
15% for Online Adventure Qualifying