SERIES 32 INFO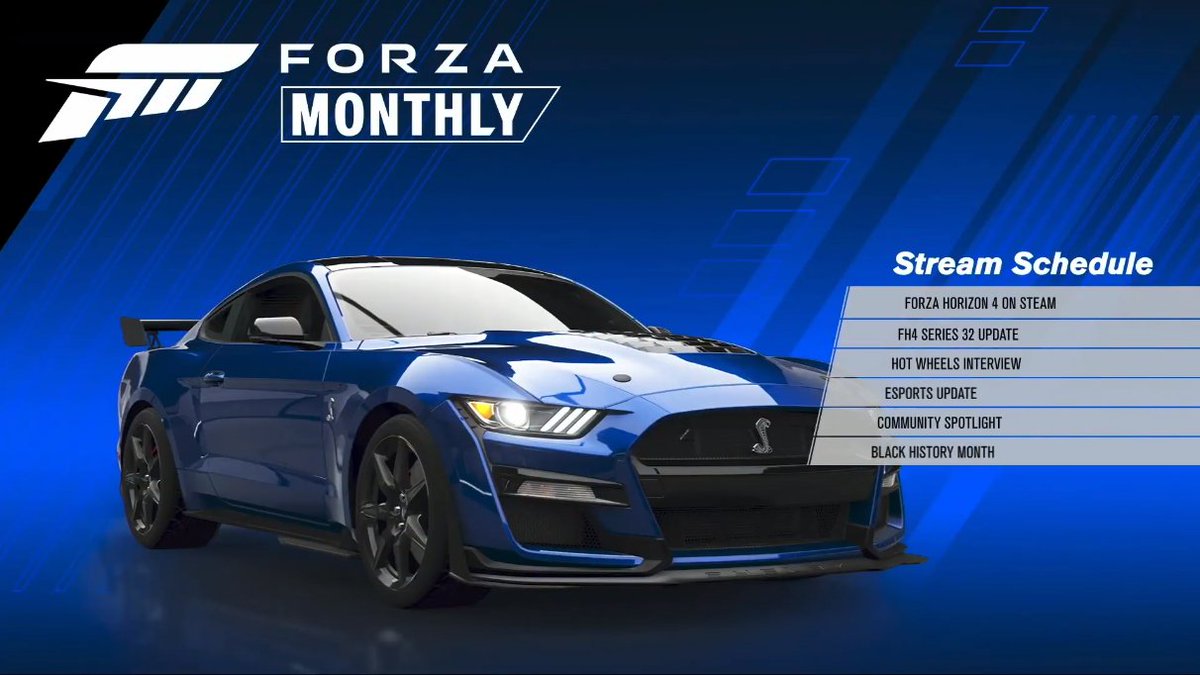 SEASONS
Summer: February 11 - 18
Autumn: February 18 - 25
Winter: February 25 - March 4
Spring: March 4 - 11
Horizon Backstage voting was set for long term and has been reset to weekly
Daily Forzathon and weekly seasons start 6:30am Pacific (Thursdays)
Forzathon Shop resets at 7:30am Pacific Thursdays
LIVESTREAMS & VIDEOS
Two livestreams on February 8 presented Series 32 content and news:
Series 32 Update livestream hosted by ItsCharleyyTho
03:00 - Tom Butcher and Chris Phillips present the Festival Playlist
10:30 - Hot Wheels Legends Car Pack trailer and gameplay
21:00 - Fixes (livery import)
Forza Monthly livestream hosted by Leahviathan
05:30 - Series 32 update possible delay; FH4 on Steam trailer (March 9)
11:00 - Mustang Shelby GT500 trailer and Series 32 cars overview
18:30 - Ricardo Briceno, VP Global Franchise Marketing with Mattel talks Hot Wheels Legends
29:30 - community photo montage, Alie Tacq with community esports
39:30 - community spotlight: Ash Gibbs from Forza UK (@ForzaHorizon4U1) aka.ms/ForzaSpotlight
47:30 - Black History Month (USA) on Forza channels in Feb.; Forza Street update.
48:30 - special #ForzaFriday livestream on Feb. 26 for Game Blast '21 in aid of SpecialEffect; streaming calendar; IROC-Z photo montage
NEW CARS
Two Exclusive models available from the Festival Playlist:
2020 Ford Mustang Shelby GT500 (new to Forza)
2012 Shelby 1000 (previously in FH1)
Six new Hot Wheels Legends cars ($10 paid DLC):
1949 Ford F-5 Dually Custom Hot Rod
1969 International-Harvester Loadstar CO-1600
1972 Chevrolet LUV
1957 Studebaker Golden Hawk 'Dream Roadster'
2 Jet Z
1957 Nash Metropolitan Custom (THE NASH)

FEATURES / NEWS
CONTENT UPDATE & RELEASE NOTES
"Due to an issue with this month's update, Series 32 may be delayed. We do not yet have a release date, but will keep you updated on the latest. In the meantime, the game will revert to a backup Festival Playlist. Follow us for more info." @ForzaSupport
The update was made available to install at 4am Pacific on February 11th. The update only includes the GT500 and 1000; Hot Wheels Legends cars do not currently appear in the game Marketplace and are not available from the Microsoft Store yet.
1.75 GB for Xbox One X
7.93 GB for Xbox Series X
https://support.forzamotorsport.net/hc/en-us/articles/360061163854-FH4-Release-Notes-Series-32-February-10th-2021
Not Fixed:
The Horizon Backstage counter for "Your Passes" still doesn't display the number of passes you have.
The livery import issue and others are still listed in the Known Issues article at Forza Support.
REWARDS
Festival Playlist
50% Series Completion - Backstage Pass
80% Series Completion - 2018 ATS GT
SUMMER
50% - 2019 Zenvo TSR-S
80% - 2018 Mercedes-AMG E 63 S
Trial - 2006 Hummer H1 Alpha Open Top
PGG - 1933 Napier Napier-Railton
Event - 1994 Toyota Celica GT-Four ST205
Event - 1974 Toyota Corolla SR5
Event - 2020 Ford Mustang Shelby GT500 (new)
AUTUMN
50% - Backstage Pass
80% - 1966 Ford #2 GT40 MkII (Le Mans)
Trial - 1980 Renault 5 Turbo Forza Edition
PGG - 2018 MINI X-Raid John Cooper Works Buggy
Event - 1999 Ford Racing Puma
Event - 1969 FIAT Dino 2.4 Coupe
Event - 2008 Lamborghini Reventon Forza Edition
WINTER
50% - Backstage Pass
80% - 2011 McLaren 12C Coupe
Trial - Classic Race Suit
PGG - 2007 Renault Clio RS 197
Event - 2019 Porsche Macan Turbo
Event - 1948 Ferrari 166MM Barchetta
Event - 2014 Volkswagen Global Rallycross Beetle
SPRING
50% - 1993 McLaren F1
80% - 2010 Lexus LFA
Trial - 2007 Alfa Romeo 8C Competizione Forza Edition
PGG - 1972 Land Rover Series III Forza Edition
Event - 2012 Shelby 1000 (new)
Event - 1990 Nissan Pulsar GTi-R
Event - 2017 Aston Martin Vanquish Zagato Coupe