AUTUMN Season
Starts at 6:30am Pacific on January 24
This is the second season of Series 5.
Next change: Thursday, January 31 at 6:30am Pacific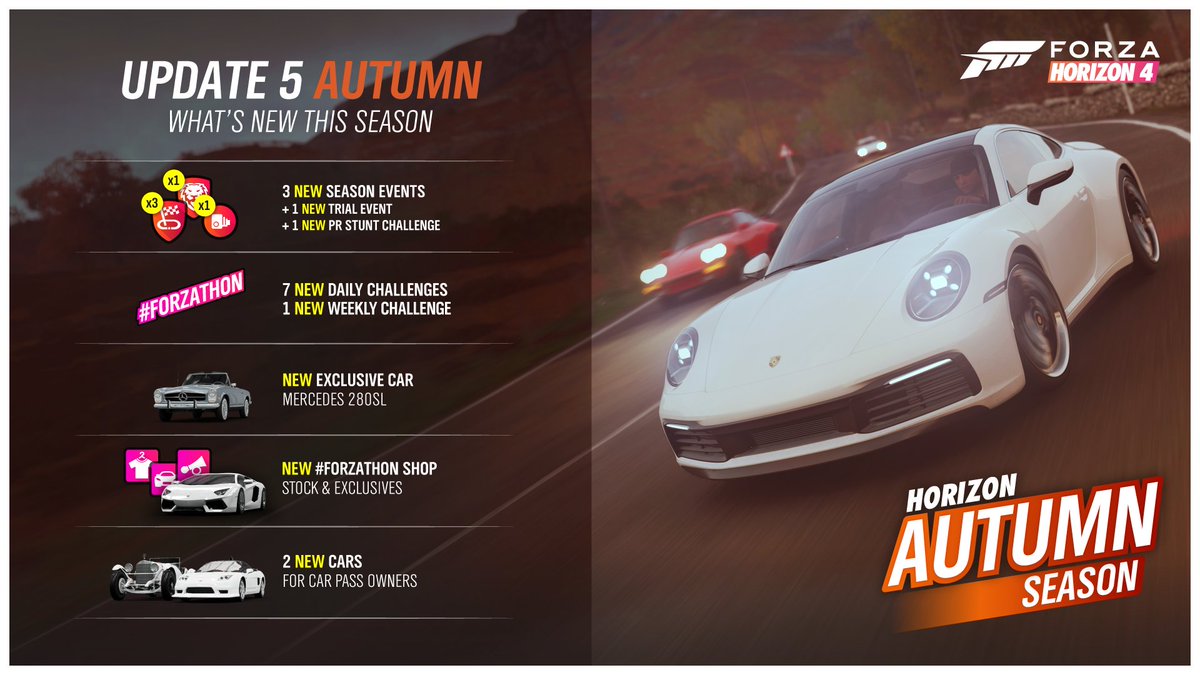 Note that #Forzathon Shop prices have changed.
BARN FIND RUMOR:
(Spoiler - repeat Autumn find)
CAR PASS DLC ADDITIONS
2005 Honda NSX-R GT
1929 Mercedes-Benz Super Sport Kurz Barker Roadster


#FORZATHON

SHOP
400 FP Car: 2012 Lamborghini Aventador FE (existing Exclusive model)
600 FP Car: 2018 Porsche Cayenne Turbo (existing Exclusive model)
??? FP Clothing: Blue Biker Jersey (Legendary)
??? FP Horn: Blue Biker Trousers (Legendary)
Wheelspins cost 40 FP & 150 FP


#FORZATHON

WEEKLY CHALLENGE: [must be done in sequence to count]
Earn 200 FP from this challenge plus 20 per Daily
Own and drive the 1999 Mitsubishi Lancer Evo VI GSR
Earn a total of 12 stars from Speed Zones in the Evo VI
Win 5 Dirt Racing Series events in the Evo VI
"Take your Lancer GSR '99 out for a 10 mile drive"
DESCRIPTION BUG:
SEASONAL EVENTS:
Championship: "When the Grass is Jewelled" | Derwent Resevoir Sprint | PI<800 Classic Sports Cars | Reward: "Never Tell Me the Odds" Quickchat
Championship: "Running Start" | Greendale Super Sprint | PI<900 Classic Racers | Reward: Mercedes-Benz 280SL
Championship: Community Route | Tangled Trail | PI<700 Retro Rally | Reward: Patrol Outfit and "Alright Guv'nah"
The Trial Co-Op Championship: "Porsche Cup" | Derwent Reservoir Trail | PI<998 Porsches | Reward: Modern Race Suit Grey
PR Stunt: Derwent Reservoir Speed Trap | 200.0 mph
Meet the finish requirements to earn (Super) Wheelspins, CR, and/or a unique reward. To earn the Trial reward, team members must all race against Unbeatable Drivatar difficulty and win as a team against the Drivatars.
FORTUNE ISLAND
Championship: "Storm in a Teacup" | Island Tour Cross Country | A800 Extreme Offroad
Championship: ""King of the Hill" | The Needle Descent | S2 998 Track Toys
Championship: "Coast to Coast" | Hilltop Scramble | B700 Retro Rally
PR Stunt: Berm Speed Trap | 155.0 mph/list]
Fortune Island championships earn Wheelspins for 1st-2nd-3rd in Solo, Co-Op, and PVP.