AUTUMN
Starts June 13, 2019 at 7:30 a.m. Pacific
This is the second season of Series 10.
Next change: June 20 at 7:30 a.m. Pacific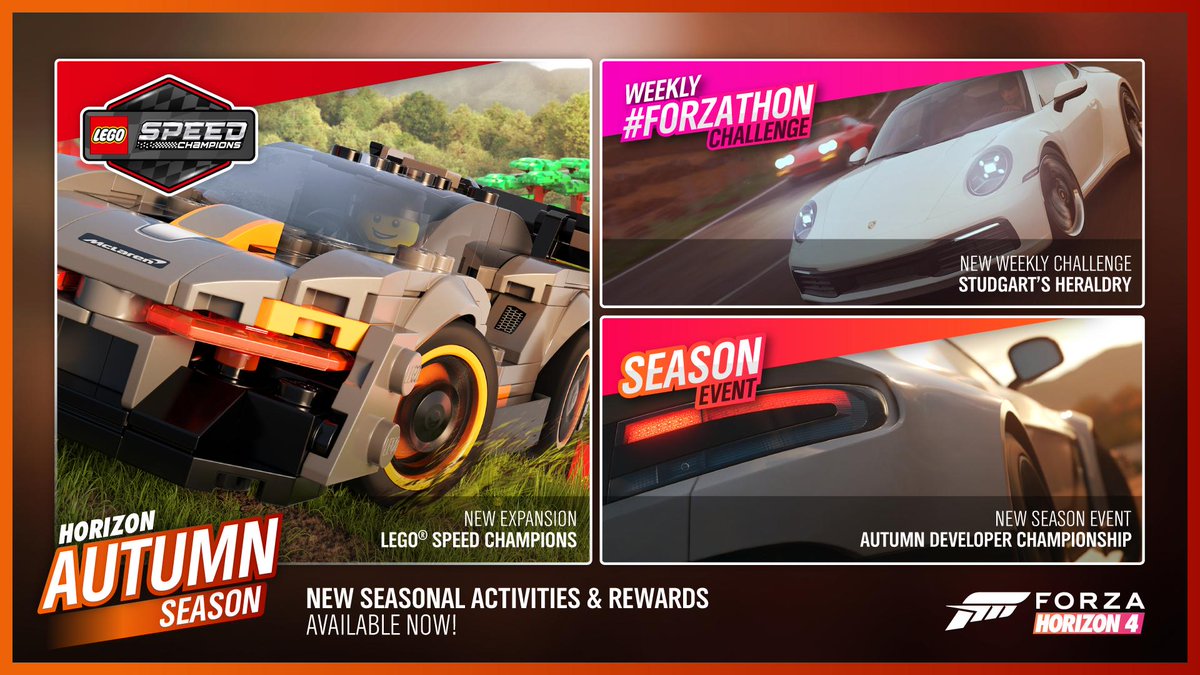 BARN FIND RUMOR:
#FORZATHON SHOP
Note that #Forzathon Shop prices have changed.
625 FP Car: 2015 Alumi Craft FE (existing Exclusive model)
500 FP Car: 2009 Vauxhall Corsa VXR (existing Exclusive model)
?00 FP Emote: The Robot
?00 FP Clothing: Strawberry Parka
Wheelspins cost returned this series to 40 FP & 150 FP
FESTIVAL PLAYLIST REWARDS
#FORZATHON

WEEKLY CHALLENGE: [must be done in sequence to count]

Earn 200 FP from this challenge plus 20 per Daily
Own and drive any Porsche
Win any 3 Road Racing Series Events in a Porsche
Drive a total of 26.2 miles in a Porsche
Win any 3 Dirt Racing Series Events in a Porsche
SEASONAL EVENTS
The Trial Co-Op Championship: "Trials and Tribulations" | North Coast Rush | S1 Super GT
Seasonal Playground Games: Mortimer Gardens | A800 Super Hot Hatch
Reward: Skill Event Horizon Sweater
PR Stunt: Rannoch Shelf Danger Sign | 561.0 feet
PR Stunt: Derwent Reservoir Speed Trap | 190.0 mph
PR Stunt: Toft Speed Zone | 135.0 mph
Championship: Developer Routes | Greendale Foothills Scramble | S1 Modern Supercars
Championship: "Retro Rally Rumble" | Ashbrook Loop Scramble | B700 Retro Rally
Reward: Chevy Camaro '79 (existing Exclusive model)
Championship: "Heavyweight Champions" | The Ridge Cross Country Circuit | S1 Modern Supercars
Monthly Events
Monthly Rivals: Astmoor Heritage Circuit
Online Adventure
Completing the monthly events applies their completion percentage to all four seasons in the Festival Playlist.
FORTUNE ISLAND
Events
The Trial Co-Op: South Island Circuit | S1 Modern Supercars
Championship: Island Tour Cross Country | A800 Extreme Offroad
Championship: The Needle Descent | S2 Track Toys
Championship: Hilltop Scramble | B700 Retro Rally
PR Stunts
Oldarch Forest Speed Trap | 140.0 mph
The Forest Run Trailblazer Start Gate | 42 seconds